Rex Danger: P.I.
Meet Rex Danger
Our hero, Rex used to be a Detective Sergeant on the city police force. He was on the fast track to make Detective Lieutenant, missed passing the test by one lousy point, but that went awry when $5,000 in drug evidence money came up missing with his pawprints all over it. He was forced to resign in shame—either that or go to jail. Now he's a private eye, and still on the lookout for whoever it was that framed him. He doesn't have a very good relationship with law enforcement and tries to keep his head down and stay out of trouble, but trouble has a way of finding him anyway. The only friend he's got on the force is his old pal Shep MacDougal, Mac, to his friends . Mac and Rex have known each other since they were pups and went to the police academy together, finished in the top one percent of their class. Now Mac is top dog at the precinct as a Captain, but he and Rex are still close.
 THE CASE AGAINST REX DANGER
SCOTTY                                 DUKE                   SPIKE
                      MAC                              LUCKY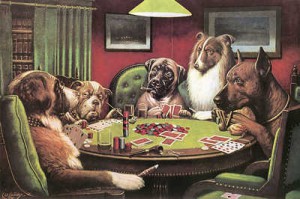 POV See the dogs playing poker painting. Mac and Scotty, a Scottish Terrier, Duke, a Labrador Retriever, Lucky, a Collie, and Spike, a Doberman, are sitting around a poker table.
MAC
I keep telling you, he didn't do it.
DUKE
Oh, here we go.
SCOTTY 
Yeah, that's what you've been sayin' all along, Mac, but the fact is it was his name and signature on the sign out sheet, and his snout on the video.
DUKE
Did everybody ante up the kitty?
SCOTTY
If he didn't take the five G's, then who did?
MAC
"I don't know, but I'm telling you it wasn't him. We've been pals since we were pups.
MAC
It must have been somebody else. They never did get a good shot of his face."
SCOTTY
"So you think it was somebody else on the video? Somebody else wearing the same trench coat, with his markings, and the same stupid hat?"
MAC
"Yeah, that's what I'm saying. Anybody could get a hat like that, and the coat, too."
MAC
Whoever it was kept their face out of the camera range and had the hat pulled down to cover his snout. That's pretty suspicious, you ask me.
MAC
Rex Danger was framed for taking that five thousand dollars out of the evidence room. He wouldn't throw away his career for a lousy five G's. The guy was on the fast track to make Lieutenant.
MAC
He only missed the test by one point. It ought to be him wearing this lieutenant bar, not me.  He had too much going on risk his badge for something so stupid."
DUKE
"Look, you guys gonna play cards or sit around going over ancient history? You gonna call, or what, Scotty?"
SCOTTY
Yeah, don't get your tail in a twist, Duke. I call.
SCOTTY
"Look, Mac, all I know is what the Internal Affairs inquest found out and your pal got caught with his paw in the cookie jar. End of story.
SCOTTY
You ask me, he should have been thrown in jail, not just kicked off the force. We got a word for dogs that steal—dirty. Rex Danger is a dirty dog and that's that."
SPIKE 
"Y'know, just once I'd like to sit down to a nice game of cards and not have to prove the guilt or innocence of Rex Danger.
SPIKE
Me, I liked the mutt, but Internal Affairs did the investigation, and they found him dirty.
SPIKE
Bottom line, neither of us was there and all we got to go on is what he says and the evidence against him. I.A. says he's dirty, I gotta go with the pack.
LUCKY
"Yeah, Mac, you might wanna be careful about what you say. Rumor is the big brass is gonna start sniffin' around you, too. Just sayin', you might wanna muzzle yourself when it comes to this.
LUCKY
Danger wouldn't want you to risk your career, stickin' up for him. I like the mutt, too, but you don't see me risking my 20 years on the force, chasin' after a car I ain't never gonna catch, y'know?
MAC
Bring 'em on. My record's clean.
LUCKY
Yeah, so was Rex Danger's.